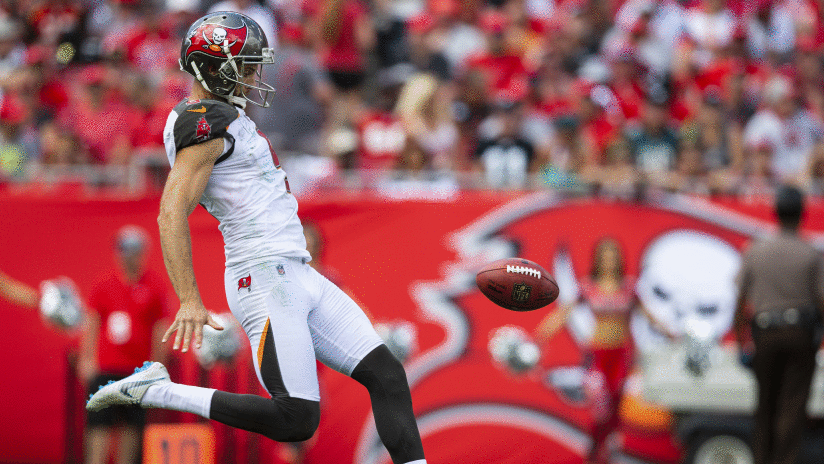 Buccaneers punter Bryan Anger had a fantastic game in his team's win 26-24 win over the Giants on Sunday. Anger punted four times for an average of 49.8 yards, including two gems—he had a 53-yarder downed at the 3-yard line and a 62-yard boomer downed at the 11.
The NFL took notice of this performance and apparently wanted to make sure no funny business was going on. So, the league did what leagues tend to do when this sort of thing happens: they drug tested Anger the morning after the game.
As mentioned previously, this isn't all that uncommon in professional sports. Pat McAfee, the former Colts punter-turned-Barstool Sports radio host whose tweet is embedded above, was himself "randomly" tested in 2013 after he delivered a crushing hit on then-Bronco Trindon Holiday.
It appears the NFL is watching for off-the-field activity that might suggest drug use, as well. Last year, McAfee was tested after he tweeted a fire emoji on 4/20.
This isn't just limited to football, either. Milwaukee Brewers slugger Eric Thames hit 11 homers in his first 24 games of the season after spending three years playing in Japan. That raised suspicions—perhaps rightfully so, as there is, er, a history of steroid use in baseball—to the point that Thames was tested four times before he hit his 12th homer. And after he hit the 12th, you best believe he was tested yet again.
I don't have an issue with testing someone who's playing extremely well, particularly if the performance is uncharacteristic. Like, if a guy isn't that good then hits 11 homers in the first month of the season (like Thames), those are the guys the leagues should be testing. Let's just not pretend these tests are "random."